The GH recap for May 4, 2023, has Trina taking charge.
The General Hospital recap features Trina Robinson knocking out the nanny in a bid to save her man and his baby brother.
General Hospital Recap Highlights
The nanny tried to take back Big Baby Ace but Trina wasn't about to let that happen. At the bunker, Laura dropped the pathogen but it didn't do its job. A brawl and shootout soon ensued. Valentin continued to hallucinate Helena and then thought he was hallucinating Anna. Back in Port Charles, Willow actually made the choice to have her cancer treated as she was once again on death's door. Now, let's dig a little deeper into the details.
General Hospital Recap: Trina Robinson Gets The Job Done
Spencer (Nicholas Alexander Chavez) and Trina (Tabyana Ali) were impressed that badass Laura (Genie Francis) was on the island leading a rescue team. Spencer did not want to leave his grandmother behind and insisted on helping Curtis (Donnell Turner) with the rescue mission. Trina was just worried about Curtis and didn't want to lose him and leave him. Curtis finally convinced Spencer and Trina to get to that seaplane with Ace as he took off for Victor's bunker.
General Hospital Recap: Trina Robinson Saves Spencer and Ace
When Trina went off on her own to find another blanket for Ace, trouble ensued. The nanny arrived to stop Spencer from taking the baby to the plane but Trina proved she was just as badass as Laura when she came up behind the nanny and conked her over the head with a glass bottle. Before they took off, Trina used the satellite phone to call Jordan (Tanisha Harper) and tell her what was going on. Jordan warned her that the WSB was sending drones to bomb the island, telling her to get on that plane right away.
GH Recap: Mayhem In Greenland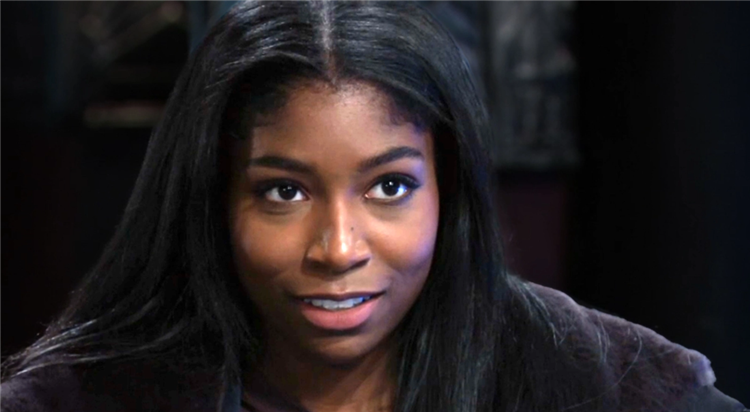 In Victor's (Charles Shaughnessy) bunker, Laura held all the cards — or at least a vial that could end 80% of humanity. Victor warned Laura if she drops the vial, she will die but Laura pointed out that he would too. Victor tried to argue that if Liesl (Kathleen Gati) died in that room, Willow (Katelyn MacMullen) would die at home. Laura said she'd be willing to sacrifice Willow because what's one life if she can save so much of humanity? Laura stunned everyone — especially Victor — when she dropped the vial.
Victor then informed Laura that the pathogen had to be exposed to UV light in order for it to spread via air. Victor took back control of his hostages but then they all heard sirens and gunshots. The distraction allowed a brawl to ensue as Anna (Finola Hughes) arrived with a pistol in hand ready to fight. As the brawl went on, Laura took the opportunity to grab Liesl's Kaboodle but Victor quickly had a gun at her back.
Badass Anna took care of the guards with her fist as if she didn't almost die from a gunshot wound two weeks ago. Victor just wanted to get out of there so he grabbed Liesl and the Kaboodle and took off, but not before shooting Laura. Thankfully, it was only a graze. Just as Anna was about to get shot again, Curtis appeared and took out the goon with a bullet. Once the dust had settled, Anna was stunned when Laura told her what happened to Valentin (James Patrick Stuart) so Anna took off to find him. Just then, a very old computer started beeping and reminded Laura of the one that Mikkos used 40 years ago to control the weather.
Valentin continued to talk to Hallucination Helena and she continued to taunt his mind. He insisted he would not be going to hell with her — heck, he would not be going anywhere with his dead evil mother. As Valentin's condition worsened, he insisted he was going home for Anna. When Anna appeared at the window Valentin was sure he was hallucinating, but it was the real deal.
As for Victor and Liesl? They found themselves outside in the snow where Holly (Emma Samms) found them and drew her gun as Liesl grinned.
General Hospital Recap: All About Deathbed Willow
Sonny (Maurice Benard) met up with Nina (Cynthia Watros) at Kelly's and told her that he was determined to find out who told the SEC about Carly and Drew. He was also going to make sure that Carly would not go to jail for insider trading. Sonny believed it was Ned (Wally Kurth) who might have tipped off the SEC, but he wasn't 100% sure. Nina just played dumb and told Sonny that she wouldn't mind taking an island vacation after all. She admitted she was still uneasy about leaving Willow but felt they really needed this.
Joss (Eden McCoy) and Dex remained in bed talking about all sorts of things like Drew (Cameron Mathison), Carly (Laura Wright), Liesl, Willow, and Sonny. She had too much on her mind but Dex told her not to give up hope. Joss insisted that Drew had to bring Liesl home safely because Willow's life depended on it. Dex just listened as Joss went on and on about Willow, as well as Carly's SEC problems. Dex assured her that Sonny would keep the SEC off Drew's tail, but Joss reminded him he was part of a plot to put Sonny behind bars and then he couldn't help them anymore.
Dex was surprised when Joss asked if he was having second thoughts about turning in Sonny. She felt he sees something in Sonny that others do not, something she also once saw but does not anymore. Dex just said whatever happens to Sonny was in Michael's hands now. Joss figured that Michael was more concerned with Willow than turning in his father any time soon. Sonny called and told Dex he needed him to charter a plane to paradise.
As Dex got ready to leave Joss's room, Carly called to tell her daughter about Willow. Dex took that news to Kelly's and informed Nina that Willow was now at GH. They rushed to the hospital where the first person they encountered was Carly.
Finally, dying Willow lay unconscious in a hospital bed dying as TJ (Tajh Bellow) told Michael (Chad Duell) that he thought it would be better for Willow if she stays at GH until Liesl could return with that bone marrow. It seemed that her blood wasn't clotting and her body was failing her. Michael didn't think that Willow would want to die in a hospital but Carly argued that keeping her in the hospital versus Hospice care at home could keep her alive.
Michael soon went to sit by Willow and begged her to wake up and magically, she did. Now, she had to make a choice between Hospice care or hospital care on her own. Michael told her what TJ said about how her body is breaking down and did his best to convince her she needed to stay at GH till she could have the transplant. Willow finally lamented and made the sacrifice to have her cancer treated in the hospital so that she'd still be alive when Liesl got there. After all, if Drew was putting his life on the line to bring home the marrow, the least Willow could do was still be alive when he completed his mission.