"Blue Bloods" is a show about law enforcement, a show about the justice system, and a show about politics. But at its core, it is a show about family. While Frank Reagan (Tom Selleck) and his three children, Danny (Donnie Wahlberg), Erin (Bridget Moynahan), and Jamie (Will Estes), navigate their jobs in the city of New York, some of the more poignant scenes see them navigating their family life as well.
Most of the best scenes in each episode involve one or more Reagan working together, whether it is Frank attempting to impress his decades of police wisdom onto his youngest son, Jamie, or Danny and Erin arguing over the arrest of a criminal. Their work on the job allows the potent familial relationships to seep into every scene from episode to episode.
The Reagan family dinners are used effectively as a tool to further the show's narrative. Every episode sees the cast sit down at a weekly dinner, putting family first and bonding over life and experience. While these scenes are undoubtedly crucial to the show's growth and that of its characters, Tom Selleck revealed in an interview that there's a certain part of these dinners that stands out as the most important.
Family isn't pretty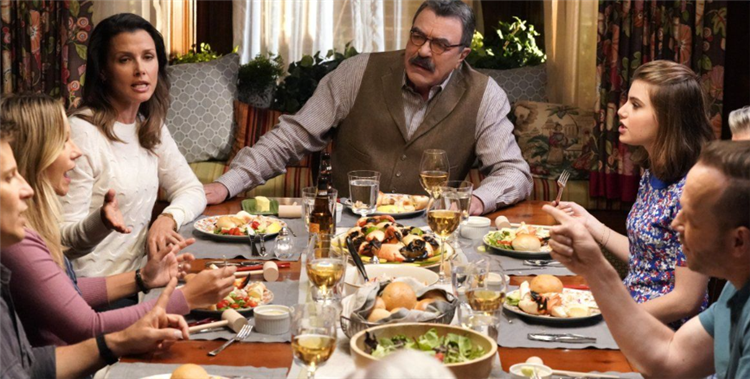 Family isn't always colorful rainbows and flowerbeds, as no one needs to remind you that arguments among family members are bound to happen. These arguments are what Tom Selleck believes make up the most important Reagan dinner scenes, namely the ones that show the debates the family has.
He sat down with Parade to discuss Season 12 of "Blue Bloods," the "Jesse Stone" TV movie franchise, and his upcoming memoir. "The complications of family are endless. In a family where so many are tied to the business, even Frank's father has his own opinions," he said. "What is most important in family dinner is it's not 'Kumbaya'; it's the disagreements."
The importance of a series like "Blue Bloods" is that it documents the disagreements. These are not simply arguments between family members; they represent social commentary on law enforcement and justice. While Danny bleeds blue and the family is deeply entrenched in the NYPD, debates with the more progressive Erin, Nicky (Sami Gayle), and Jamie keep the series from entering into a one-sided presentation of law enforcement. Instead, these dinner scenes keep a firm footing in bringing to light the issues we face in the real world.