The "Blue Bloods" family dinner scenes have always been the place for the Reagan family to debate about their professional and personal lives. At the ends of the eight-seat table sit retired New York Police Commissioner Henry (Len Cariou) and his son Frank (Tom Selleck), who currently holds the same post. Frank's son, Detective Danny (Donnie Wahlberg), joins them in the "old man" faction of the family, both chronologically and philosophically. Whether the Reagans are arguing police tactics or parenting, those three almost always take the old-school, hard-line approach to things.
Meanwhile, Danny's younger brother and NYPD Officer Jamie (Will Estes), their sister, Assistant District Attorney Erin (Bridget Moynahan), her daughter Nicky (Sami Gayle) and Danny's sons Sean and Jack (Andrew and Tony Terraciano) are responsible for pushing back against Frank, Henry, and Danny. "Blue Bloods" family dinner debates have covered everything from the Catholic Church's position on LGBTQ+ relationships to international relations, and family members of all ages and leanings can end up feeling oppressed or vindicated during the discussions.
But the love and respect the Reagans have for each other means their dinners usually end in understanding, if not necessarily complete harmony — and often with a wisecrack from Danny, to break the tension. But in one Season 8 episode, some of that respect is put on hold for a moment, and not by who you might expect.
Frank and Henry use a sneaky tactic to make a point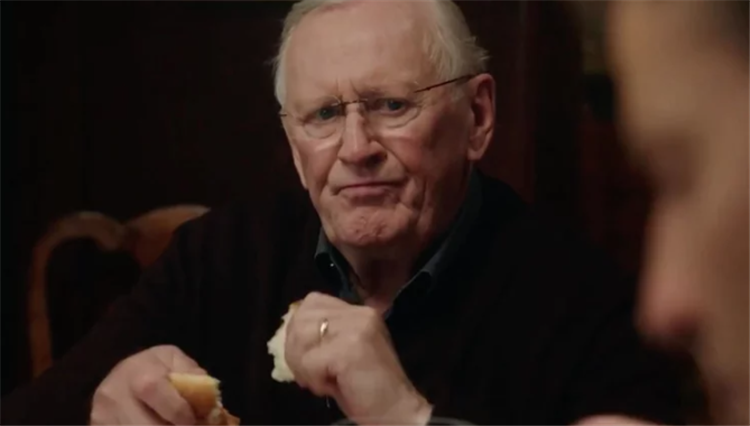 The family dinner argument in Season 8, Episode 10, "Heavy is the Head," centers around Erin's decision to help a man credited with rescuing three women from a hostage situation avoid prosecution for outstanding charges. Henry starts off this scene — available on YouTube — by testily refusing to pass Jamie the potatoes and asking him when the family got "into the business of just letting criminals walk away," then cutting off Erin when she comes to his defense.
Frank challenges Jamie and Erin's decision-making and judgment, telling them "All you need to know is in the book." Danny jumps right in, lauding Frank and Henry for "restoring law and order to the dinner table" and Henry judgingly grumbles that, "The oath cops take does not include a phrase about taking the law into your own hands."
Erin and Jamie are clearly annoyed and agitated, and Jamie acknowledges to his grandfather that "This is a lot, even coming from you." The younger generation weighs in, in favor of Erin and Jamie, at which point Frank and Henry reveal that the debate was a pre-arranged lesson to teach them, in Frank's words, "The good cop, the valuable lawyer, can put the book down and look into the heart of the matter."
But Erin, Jamie, and the three children clearly have already learned this lesson, and Frank and Henry easily could have made their point in a more scholarly and less confrontational manner. The only person at the table who needed the lesson — Danny, who was not in on their scheme — walked away unchanged, and Frank and Henry's "lesson" needlessly aggravated more than half of the people at the table.