After spending years as Carly Tenney on the CBS soap opera AS THE WORLD TURNS, Daytime Emmy winner Maura West found herself joining the cast of GENERAL HOSPITAL as the newly created character of Ava Jerome. Even as she settled into her new life in Port Charles, she recognized a familiar face from her time in Oakdale: Roger Howarth, who had portrayed Paul on ATWT and was now Franco on GH.
Ava arrived in town in 2013 hoping to get a share of ELQ since her daughter, Kiki, was fathered by Franco Baldwin, who was believed to be a Quartermaine at the time. (It was later revealed that Dr. Silas Clay was really Kiki's dad.)
"Those were really fun days," West told Soap Opera Digest of that early storyline. "I got to sort of be reunited with Roger Howarth under completely different circumstances, on a different show, different characters, different everything. I loved that."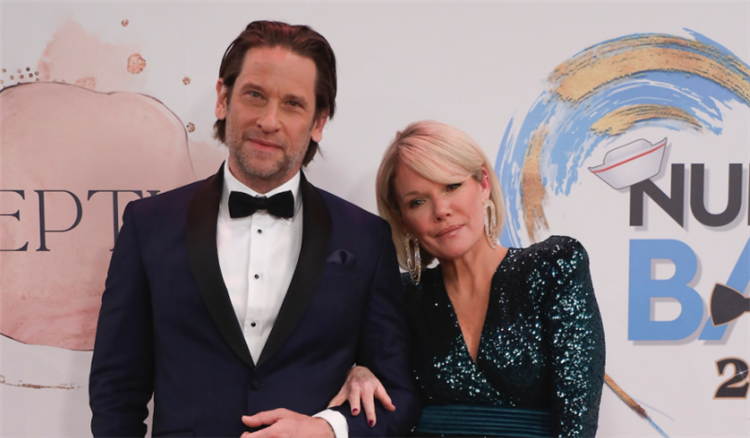 The two spun out of that into separate storylines in the years that followed, but were ultimately drawn back around together in 2022, though the dynamic has changed quite a bit as Howarth is now playing the character of Austin Gatlin Holt!
When Austin became entangled in Ava's efforts to cover up her murder of ex-husband Nikolas Cassadine (who, unbeknownst to either of them, is still alive!) West and Howarth were back on the big screen together. Fans of the duo have already smushed their surnames together to form the couple name "Jolt" in the hopes that something romantic may spark between them.
"I don't know where that's going, but I love that I'm able to play with Roger again," West declared. "He is certainly on the short list of who every actor wants to work with. I'm a lucky duck."
In fact, West is eternally grateful to be playing such a fabulous character on such a fantastic show. "I love my job," she enthused. "I love being an actor. I love being on set, I love the crew… I just one hundred percent love it. Being on this show is an extraordinary experience and I'm eternally grateful."