On Wednesday night's episode of The Real Housewives of Beverly Hills, Kyle Richards took a harsh stance against Sutton Stracke after finding out that she had claimed the Magic Mike act they were witnessing in Las Vegas wasn't her "brand." When the cast traveled to Sin City to celebrate Crystal Kung-Minkoff's 40th birthday, 56-year-old Garcelle Beauvais revealed that she didn't feel comfortable leaving her children with the group, which infuriated 47-year-old Dorit Kemsley. Additionally, 52-year-old Sutton left Magic Mike abruptly, claiming that the performance had left her "uncomfortable."
When Erika Jayne, 52, who had organized for the ladies to see the musical, and Crystal were chosen to go on stage on the November 8 edition of RHOBH, Sutton appeared to be offended immediately.
"I wore pants for f*cking nothing!" she exclaimed, signaling to an instruction she received ahead of the show.
After seeing her castmate's reaction, Garcelle suspected Sutton's feelings were hurt that she wasn't chosen to go on stage as Dorit suggested Sutton wanted to be the "center of attention."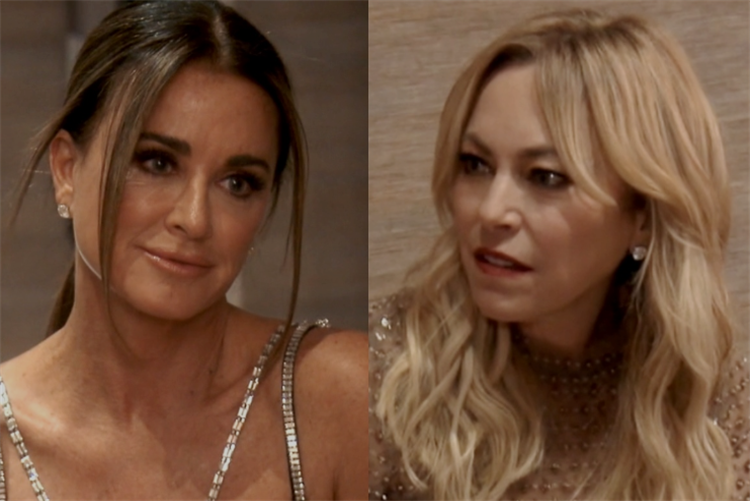 "That's not okay … What the f*ck was that?" Sutton said to herself as she walked amid the performance. "I don't do that."
Then, after Garcelle followed and asked what was wrong, Sutton declared, "I'm f*cking pissed. That f*cking sucked."
She went on, "It was a fun show until I saw my two friends; they had the man's face inside their crotch with their legs wide open." I don't have pals who stand on platforms with men's faces stuck in their crotches; instead, I serve on the American Ballet Theater board. You may all enjoy yourselves, clap along, and think it's fantastic. I hold myself to a different standard. For my own use.
Following her own performance, during which she claimed to have had "whipped cream licked off of me," 54-year-old Kyle also went to see how Sutton was doing.
"It's ridiculous and foolish to lick whipped cream off of you." "Should I spread your legs apart? No," Sutton informed her.
In confessionals, both Garcelle and Kyle pointed out that Sutton's reaction seemed overly intense.
"All of a sudden she's freaking out in the bathroom, she's yelling in the lobby. Hurricane Sutton is here! I mean, my god," Garcelle shared.
But according to Sutton, her outburst had "nothing to do with the pants."
"You all enjoy the strip club show that you all came to see, I don't want to! My brand is not that," she told the ladies. "We're not gonna blame the pants, that's not what this is about. I am very uncomfortable with that whole thing. Sorry, call me a prude. I don't care, it's who I am."
As Sutton ranted on, Kyle encouraged her to stop making a scene.
"Shut up!" Sutton replied.
"Don't be a b*tch, Sutton!" Kyle fired back, proceeding to mention Sutton's "brand" comment, which Sutton denied.
"You're such a b*tch, you are and you hit really low, Kyle," Sutton said. "Here we are again with Kyle, she's walked into a conversation she did not hear."
"Now you're being a b*tch!" Kyle responded. "Don't you be a f*cking b*tch to me!"
Later, while playing a cheeky game with her castmates, Sutton, the self-appointed "prude," revealed a number of racy things about herself, including that she would have sex twice daily if she were in a relationship and that she owns plenty of sex toys which she uses frequently.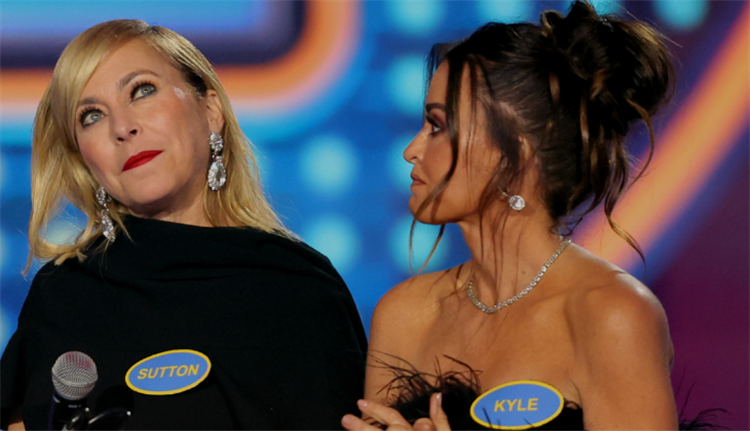 Also in the episode, Garcelle and Dorit butted heads over Garcelle's lingering concerns regarding the group's feelings toward her family.
At the conclusion of the episode, Garcelle told the group, "I have something on my mind that I want to share." "Last night, during our conversation about Oliver at the dinner table, I felt like I wasn't being completely honest with myself. I really wanted to say that I'm not sure if I can trust you guys with my family." Although you mentioned some great things, I'm simply being honest with you. I mean, I believe this because I'm still a little hurt by Jax's laughter.
In a confessional, Garcelle acknowledged that she accepted the apologies of her castmates, including Erika and Kyle, after they were seen laughing at Erika's explicit chatter around her son Jax. However, she also stated that she's still in a place that's vulnerable when it comes to her family.
"I didn't laugh at Jax," Dorit clarified back in the scene.
"I know you said that. But I just feel like I want to protect my family and I want to protect, and I feel like I still want to protect my family from this group," Garcelle explained.
Meanwhile, in her own confessional, Dorit said Garcelle's statements were hurtful and angered her.
Still, Garcelle pressed on with her concerns.
"It doesn't feel like I trust this group with my family. Like, Jax and I've been going through some stuff, and if I'm in this group, I want to feel like my kids, that you'd want to protect them too, like I would if somebody came after your kids," she told the women.
"It's been over a year," Dorit replied. "You've known us for three years. You know people. If they are good people…"
"I'm not saying you're a horrible person. I think you're taking it wrong," Garcelle interjected.
Although Sutton didn't say much during the conversation, she shaded Dorit and her husband, Paul "PK" Kemsley, 56, in a confessional, pointing out that Dorit did nothing when PK laughed at Erika's offensive antics.
Sutton said, "You're just as responsible when you watch your husband making fun of a child and you don't say anything."
As the incident developed, Dorit refuted Garcelle.
"To say that I don't trust you with my kids, that really gets to the bottom of my heart," she said. It hurts to say something like, "Listen, I don't trust that your feelings about my kids are genuine."
"I felt hurt by it as well!" Backing up, Garcelle clapped. "I don't know why you can't just accept my feelings. It's not about your motherhood. It concerns my feelings.
Then, Garcelle revealed her problem with Dorit in a confessional.
"We all know that she talks a lot, but I don't think she listens. She takes things and then makes them personal and then she becomes the victim," she noted.
The Real Housewives of Beverly Hills season 13 airs Wednesdays at 8/7c on Bravo.