GH fans have been very vocal about their outrage on behalf of Trina.
General Hospital fans are angry. The reasons run the gamut from the soap forcing couples that nobody seems to like to not featuring beloved characters enough because the cast is so bloated. However, one important fan demographic is calling GH out for another reason. They feel the soap doesn't treat its Black characters fairly — and one black character in particular, Trina Robinson.
Sydney Mikayla Made Us Fall For Trina Robinson
When Trina Robinson was first introduced to the Port Charles scene in 2017, she was an Asian character played by Tiana Le who appeared in a handful of episodes as Josslyn's best friend, but we knew absolutely nothing about her. In 2019, when Sydney Mikayla took over the role, Trina morphed from an Asian teenager into a Black teenager and we began to learn more about her, but still not much. We knew she was feisty, that she went after what she wanted, and that she was an art lover who talked Ava Jerome (Maura West) into hiring her as an intern at her gallery.
Within a year, Trina had become an integral part of the GH teen scene, but she was still mainly Josslyn Jacks's (Eden McCoy) loyal sidekick. When she was finally given a backstory and a connection to a longtime character who had just returned, fans were thrilled because it looked like Trina was about to become front burner. We met her mother, Dr. Portia Robinson (Brook Kerr), and soon learned that her father was Marcus Taggert (Réal Andrews), a character who had been on and off the soap since 1996. (A paternity reveal story changed that and Curtis is now Trina's bio dad.)
However, Trina never really achieved front-burner status. In fact, she became the odd girl out as Josslyn was given love interests and Trina was given nothing. For a while, it seemed like Trina would remain that odd girl out long-term — until Trina got to know a mysterious young man in the park calling himself "Victor." That young man turned out to be Spencer Cassadine (Nicholas Alexander Chavez), who recently returned to PC from boarding school. He took an immediate liking to Trina and her to him. Trina was not happy her new friend was lying about his identity, but they soon became genuine friends. They even looked like they were going to share their first kiss until a character came along who changed everything — Esme Prince (Avery Kristen Pohl).
GH Got Itself Into A Bad Situation…And Can't Or Won't Get Out Of It
Esme was Spencer's girlfriend from his European boarding school and she didn't like that her man was now enamored by this young woman in Port Charles. She spent all her time being condescending to Trina, but we could accept Esme as the young vixen — until the soap went too far and had Esme drug Trina with absolutely no thought as to the optics of a white girl drugging a young Black woman at a party during a drinking game. To add insult to injury, her white best friend was too wrapped up in herself to notice that something was really off with the girl she called her BFF. Never mind that GH also turned Esme into a sexual predator who recorded Cameron (William Lipton) and Josslyn having sex for the first time before blasting it out onto the Internet and framing the drugged Black girl for the crime.
By the time Trina was arrested and put on trial, Mikayla had left the role and Tabyana Ali had taken over, meaning that the relationship between Spencer and Trina had to be rebuilt slowly with a new actress. However, it has been well over a year of rebuilding and it looked like we were finally headed to a full-fledged romance in April after the Ice Princess caper in which 'Sprina' was front and center. And Esme? The soap decided she could be redeemed by giving her amnesia and a baby — and then throwing her in as the third end of a triangle again before she's ever paid for any of her crimes.
GH Fans Believe Race Is At The Heart Of The Issue With Trina Robinson
Through it all, there has been one glaring factor many fans have been pointing out and that is race. Trina seems to always stand in the shadows, especially Josslyn's shadow, as Josslyn speaks for her and fights Esme for her as if Trina doesn't have a voice and agency of her own. Trina, Esme's victim, has also been used as a vehicle to try to make Esme more palatable in a mishandled redemption or rather resetting-the-character arc.
It was Trina who saw to it that Esme didn't stand trial under the guise of not wanting a jury to find her innocent due to her amnesia. Since Trina was Esme's victim and almost served a lengthy prison sentence because of her, fans couldn't believe she would be used in this way.
"All of Trina's sacrifices and understanding have been used against her relationship," Twitter user @tintedlavendear posted in an open letter regarding the treatment of Trina and Sprina, including Trina asking for the charges against Esme — a girl who drugged her and could have killed her — to be dropped. Trina didn't want a jury to acquit Esme due to her having amnesia.
"In doing so, this led to Spencer's ex negotiating with Spencer and his grandmother to stay with them because she's the mother of his brother," @tintedlavendear continued. "All this time, Spencer was supposed to be going for custody of his brother, but the show decided to pivot and have Trina suggest to Spencer that he should try to get along with this criminal and prove to her that he should be in his brother's life."
The slow pace at which the interracial Sprina romance has proceeded is also glaringly different from the pace of their white counterparts. Josslyn and Dex (Evan Hofer) said 'I love you' in record time for a soap pair, and have been showered with love scenes since six months into their relationship. Meanwhile, Spencer and Trina have not had any of that two years in and fans are not only getting restless — they're calling out the issue they see and are determined to do something about it.
Soap critic and podcaster James Lott Jr. offered his take on this as a Black man and lover of the genre in a recent YouTube video, taking issue with the fact that Sprina has yet to have a love scene.
"Let's see a [young] Black woman be sexual," he said. "Days of our Lives is doing it. The Young and the Restless is doing it. Let's show it on this show. Let's show a young Black woman be into her boyfriend."
Can GH Fix The Problem It Created?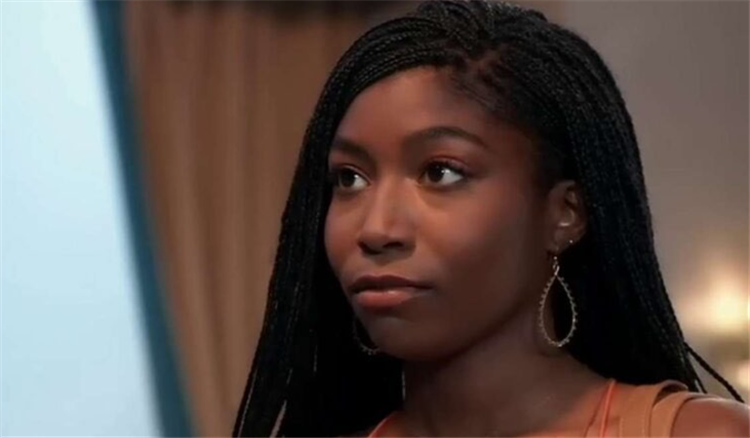 Twitter has now become ground zero for a movement to get TPTB and ABC to notice fans' outrage and fears.
"We want the showrunners and the network to know that we're here, we're watching, and we matter," Twitter user @ebonielon told Soap Hub. "The characters we want to see matter. Diversity matters. Seeing different people in different stories matters to us all."
She offered an explanation for Trina's sense of grace but also pointed out that GH has taken that grace way too far with Trina's new approach to the Esme situation.
"In real-life Black culture, we are very big on forgiveness and believing that holding grudges is somehow bad for the soul, which it might be," she said. "However, GH takes that sentiment to the extreme, and by doing so, they discredit and diminish the character and all of the very real betrayals she has suffered over the past two years…These writers are not only expecting the character of Trina to forgive, but also forget, and they're sending a clear message that Black characters have to take whatever is thrown at them because they can 'handle' it."
As of this writing, it is Josslyn who is set to read Esme for filth any day now, again speaking for someone the writers need to let speak for herself. Fans find this to be par for the course with how Josslyn is treated on screen compared to Trina.
"By Trina shouldering the crimes of Esme, being lied to and manipulated by her (white) best friend Joss…[she is] not being given real agency over herself and what is being done to her," @ebonielon said. "Joss essentially left Trina open to possibly being hurt or even killed on two separate occasions, both because of men, but Trina isn't allowed to know about or acknowledge these transgressions because young white women are not allowed to be put in a position to feel uncomfortable, but it's fine for Trina to live her entire life feeling that way."
Trina Robinson's Relationship Is Taking A Backseat To Esme
The tipping point for many fans came recently when Esme, who drugged Trina and tried to put her behind bars for years, got bonding scenes with Spencer while Trina was given scenes with her mother after a fight.
"The quality time that Trina was seeking with her boyfriend went straight to the ex, who got nine minutes of uninterrupted conversation and reminiscing about their past relationship. She got to be retold that he loved her," @tintedlavendear pointed out. "Trina has never been told this, although we've known for a year that he does."
Lott Jr. believes that Sprina has also gotten short shrift and wants to see that change.
"I know on soaps a happy couple is a boring couple and you have to have conflict. But I am just talking about [Trina's] character specifically and the couple itself and to me, they have not been developed enough," he said while also pointing out there has been a degree of unfairness against the pairing. "I just want to see the same opportunities afforded that couple as the others," James Lott Jr. explained while opining that other soaps are treating their interracial couples more fairly.
Those sentiments were echoed by @tintedlavendear.
"It's not enough that a Black character is being featured in a relationship," she wrote. "We need to see this relationship being nurtured. We need to see this character being loved just as much as her white counterparts. I'm not asking for Spencer and Trina to receive preferential treatment. "I'm asking for the couple to receive equal treatment."
Soap Hub reader Danielle Brown said the same in a letter to this website.
"There is no reason on a soap two young 20-year-olds in love haven't said 'I love you' or had a love scene when everyone around them including [her] parents have," she wrote. "As a black woman myself, seeing yourself onscreen being in love is beautiful and should be an equal experience no matter what race you are. Sprina fans deserve more than their popular coupling propping up other couples to make them more popular. No one had to prop Sprina to make them popular. Nicholas just had chemistry with Sydney and Tabyana. Again as a viewer of color, I just want to see myself depicted fairly on television and after investing in this story for two years."
That is why @ebonielon is fighting for Sprina. "As with all other entertainment media, Black and POC viewers make up a huge percentage of the viewers and fans who actively watch and we're fiercely loyal and committed to the genre," she told Soap Hub. "In the year 2023, we shouldn't have to still be fighting to be seen and acknowledged, but we will continue to do so until we're heard and hopefully we can work to change things for the better."