Anna Devane has a lot to tell Valentin.
General Hospital spoilers for August 4, 2023, reveal tender reunions, heightened mysteries, frank talks, and so much more. You won't want to miss a moment of this exciting new episode.
General Hospital Spoilers Highlights
Valentin (James Patrick Stuart) took Laura's (Genie Francis) orders and finally makes his way back to Port Charles to reunite with Anna (Finola Hughes). They are thrilled to see one another, but Valentin wants to quickly get caught up on the danger around Anna since he left.
When he hears the whole story, Valentin is not sure if Anna was the intended target of the pool shooter or not. Considering he is the one who facilitated Sonny's involvement with the Pikeman Group, he wonders if they were behind the shooting and who they were really after. Perhaps he is the one who needs to watch out.
Meanwhile, Laura and Kevin (Jon Lindstrom) make their way to Cassadine Island, knowing that Valentin shot Kevin the last time they were there. Since Laura sent Valentin home, they can go this alone now, but Laura still finds she has reason to worry.
General Hospital: A Good Day For Nina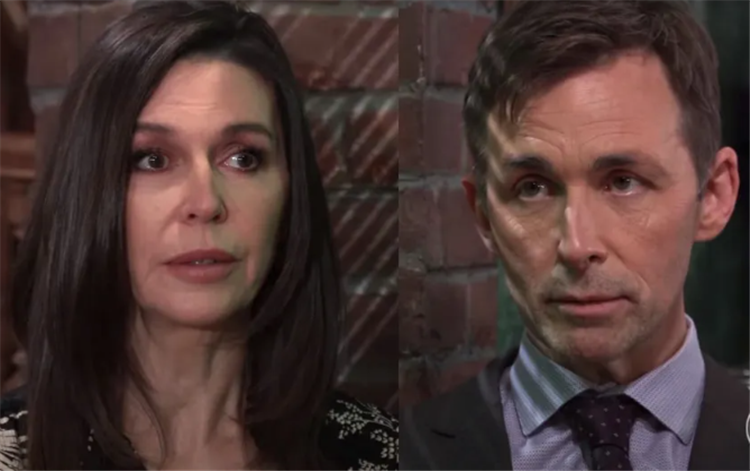 Nina (Cynthia Watros) pays another tentative visit to Willow (Katelyn MacMullen) at her daughter's request and prays it goes well. She is nervous, but Willow seems to be accepting her now. She just has to hope that nobody ever learns that she is the one who tipped the SEC off about Drew (Cameron Mathison) and Carly's (Laura Wright) insider trading mess or her new relationship with Willow will be over.
Michael (Chad Duell) is not too sure that Willow and Nina should be seeing one another at all and voices his concerns. He will abide by his wife's wishes, but that doesn't mean he can't offer his opinion.
GH Spoilers: Friends Or Lovers?
Elizabeth (Rebecca Herbst) and Finn (Michael Easton) had a very chaste first date in which they discussed their children more than they discussed themselves. It ended with a kiss as chaste as their date, and then they went right back to work and being a support for their friends.
When Liz and Finn have a heart-to-heart on Friday, do they talk about how their romantic relationship should continue or if they are better off as just friends?
In case you missed it, every Sunday, Soap Hub's very own in-house critic offers his (sometimes) curt, and heartfelt critique about the General Hospital week that was. If you missed their latest review, click here, get caught up, and then add your opinion to the comments section.