GH spoilers for April 11, 2023, have Trina doing her best to keep Spencer safe.
General Hospital spoilers reveal danger on the high seas, bad news about bone marrow, a search for a missing person, and so much more. You won't want to miss a moment of this heart-stopping episode.
General Hospital Spoilers Highlights
Trina (Tabyana Ali) was not happy when Spencer (Nicholas Alexander Chavez) took a call from his Uncle Victor (Charles Shaughnessy) right in the middle of an important conversation at the Nurses Ball. She decided she had to know what was really going on, so when Spencer left, so did she. Trina managed to follow Spencer to The Haunted Star and becomes as alarmed as Spencer when the ship suddenly starts moving.
On Tuesday, Trina is determined to get to Spencer while also keeping her own self safe. She just wanted to know what Spencer and Victor were up to and never expected she would end up taking off for parts unknown on a boat that may or may not be seaworthy. She also never expected to learn that Spencer was there against his will.
As for Spencer, it looks like he is about to learn exactly what his uncle has been up to, and it may blow his mind.
GH Spoilers: Bad News For Esme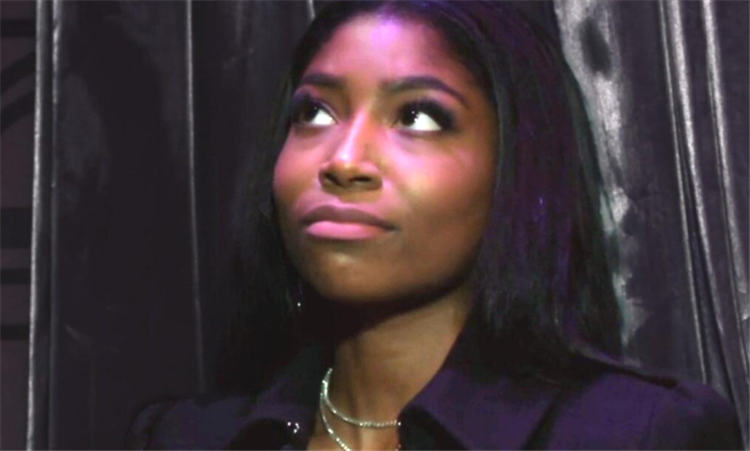 Laura (Genie Francis) is on hand to comfort Esme (Avery Kristen Pohl) and offer her some answers on what is going on with Ace. Esme still thinks that Nikolas (Adam Huss) is the culprit, but Laura has to inform her she thinks Victor is the one who took her baby. This freaks out Esme even more because she never feared that Nikolas would hurt Ace but is now convinced that Victor will.
Jordan (Tanish Harper) informs Robert (Tristan Rogers) and Felicia (Kristina Wagner) that everything ties together and Anna's shooting is directly related to missing Big Baby Ace.
General Hospital Spoilers: Where Is Liesl?
Nina (Cynthia Watros) was beside herself when Maxie (Kirsten Storms) told her that her Aunt Liesl (Kathleen Gati) had vanished from a vanishing cabinet and never reappeared. She immediately thought of Willow (Katelyn MacMullen) and her imminent bone marrow transplant. Liesl has to be present and healthy to have her marrow harvested, and now the procedure might be delayed.
To that end, Nina takes it upon herself to find Liesl with any help she can get. Sonny (Maurice Benard) is all over this case and knows if he finds Victor, he will find Willow's bone marrow donor. It's up to Nina to tell Scott (Kin Shriner) that his schnitzel is missing and enlist his aid in locating her vanishing aunt.
Surprisingly, Willow thinks of someone else when Carly (Laura Wright) and Drew (Cameron Mathison) deliver the news about Liesl and worries about how Nina might be feeling.