General Hospital spoilers for Monday, June 26, 2023, tease Ned missing from the hospital and Nina running into him somewhere. Also, Spencer deals with some Esme drama, disrupting his moment with Trina.
Ned and Nina Bump Into Each Other
DOOL spoilers tell us that Brook Lynn's worries will not end on Monday's episode. She has been worried about Ned since he made the plunge into the pool and fell into a coma. Just when he woke up and every one thought he had gotten better, he identified as Eddie Maine. Now, Monday's episode she will find that Ned he missing from the hospital. While Ned planned to travel to Vegas, he doesn't have the money to embark on his journey, so he goes to The Savoy, and runs into Nina. He scares her when he tells her she is just the person he has been looking for.
Spencer and Esme Drama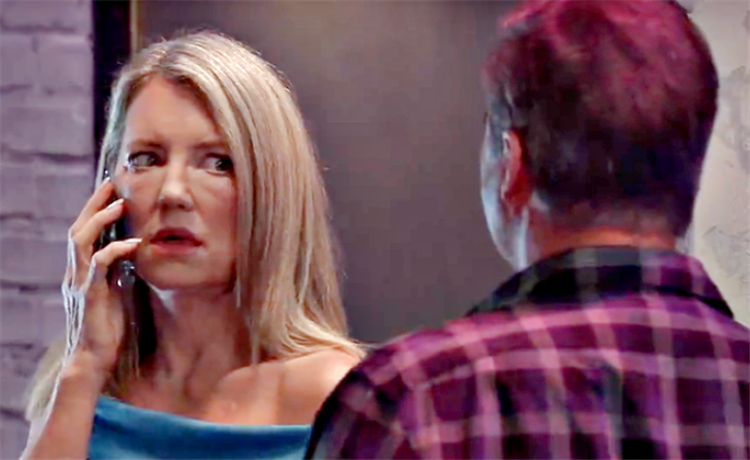 Spencer and Trina have not had much time to spend together since they returned from Greenland. While Trina had to deal with her own family issues, Spencer had Ace and Esme to worry about. DOOL spoilers tell us that Spencer will be faced with some Esme drama on Monday. As for Trina, she really wants some romance in her life, so she decides to sneak some quality time with Spencer and get him away from his family drama. Will she be able to pull it off?
Anna Gets an Offer?
Since people learned about her background as a DXV double agent and the termination of her WSB position, Anna has been a complete wreck on General Hospital. Laura is there to assist her as she moves on because she needs to. Prior to Anna's journey to Russia to search for Nikolas, Laura offers her some words of encouragement. Even Robert, Felicia, and Mac drop by with a suggestion. There seems to be a fresh beginning for Anna. Will Laura ask her to take over as General Hospital's new police chief?