The General Hospital recap features Victor Cassadine deciding he's had enough of Deputy Mayor Eileen Ashby.
General Hospital Recap Highlights
In this episode, a freaked-out Eileen told Victor everything that was going on with Anna and Valentin, but even her big mouth couldn't save her. Lucy was also freaked out at the idea of Bobbie being the closing hostess for the Nurses Ball and nearly damaged Maxie's hearing with her screaming. At Charlie's, Cameron did his best to help Esme feel comfortable at his party while Spencer seethed. Finally, Elizabeth called Epiphany rather than texting and got news she never wanted to hear. Now, let's dig a little deeper into the details.
Victor Cassadine Means Business
Anna (Finola Hughes) did her best to get Eileen (Heather Mazur) to leave Victor's (Charles Shaughnessy) room so Anna began freaking out. All Eileen wanted to do was get her hands on the decryption key on the floor, so she hung up on Anna, prompting another call that Eileen did not answer. Instead, she put her phone on silent as Victor told her she could go.
Eileen tried seduction instead but then one of Victor's henchmen arrived and they went to the other room. Eileen took the chance to grab the flash drive and call Anna but Victor interrupted before she could get through. Victor then threatened Eileen's life again and this time, he didn't want her to leave. He ordered her to return the necklace to the Port Charles Police Department evidence room but informed her she wasn't done doing her job.
Meanwhile, Robert (Tristan Rogers) and Diane (Carolyn Hennesy) managed to get into Victor's room when Diane was able to snag a master key. They immediately realized that Eileen and Victor were gone and informed Anna of what was going on. We soon saw that Victor took Eileen to Robin and Jason's bridge and threatened her life, so Eileen spilled all and informed Victor that Anna, Valentin, and Lucy were alive and made her give him a fake necklace.
On Victor's orders, Eileen called Anna and Valentin (James Patrick Stuart) while on speaker and told them she was leaving town. She thought she was saved but Victor threw her right off the bridge and that was that. Poor Anna and Valentin were none the wiser to what his father had done.
GH Recap: Lucy Is More Concerned About The Ball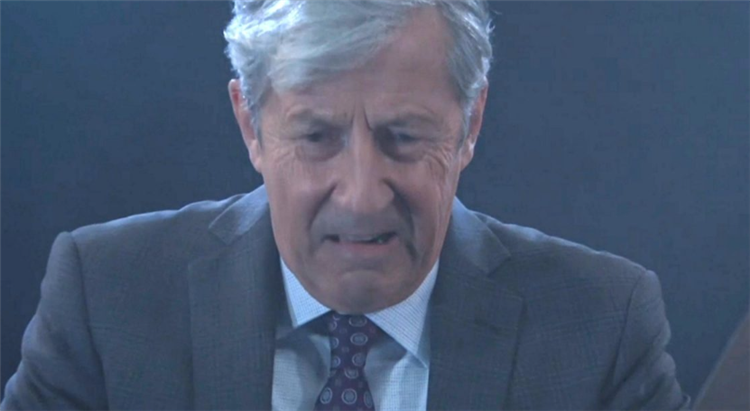 Maxie (Kirsten Storms) was losing it about Nurses Ball ticket sales while Brook Lynn (Amanda Setton), Sasha (Sofia Mattsson), and Bobbie (Jacklyn Zeman) worked on the performances. Lucy (Lynn Herring) finally reached Maxie and demanded she tells her how she was ruining her show. It's a good thing Lucy had a bright idea on how to handle this all better. Lucy listened in on Maxie talking about the ball on speaker while Maxie listened to her directions in an earbud. When Sasha suggested that Bobbie be the hostess for the ball, Lucy nearly blew Maxie's ear out by screaming "NOOOOO."
Bobbie tried to turn the job down and Lucy was happy, but Sasha did her best to talk Bobbie into this. Finally, Maxie yelled for everything to stop but she was really talking to Lucy, who was further dismayed when Felix (Marc Anthony Samuel) agreed Bobbie should take Lucy's place. Bobbie finally agreed, saying if anything could bring Lucy back from the dead, then it would be seeing Bobbie on the Nurses Ball stage rather than herself.
When Lucy called back, Maxie decided to answer and informed Lucy that different members of the GH nursing team would host different parts of the ball. Lucy reminded Maxie how that became a disaster at The Daisy Awards.
General Hospital Recap: A Bittersweet Party At Charlie's
Everyone at Charlie's was surprised to see Cameron (William Lipton) walk in with Esme (Avery Kristen Pohl) and Ace but Elizabeth (Rebecca Herbst) said Cam could bring anyone he wanted to his own party. Elizabeth told Esme it was nice to not see her in Spring Ridge and Esme told her she doesn't take well to being locked up. Cam told her not to talk to his mom like that but Elizabeth said it was fine as she still felt guilty about being one of the people who kept her hostage in a tower.
Esme could tell she wasn't wanted there and tried to leave but Cam reminded her that she could use this opportunity to prove she could be a better person. Cam then quietly told Laura (Genie Francis) and Spencer (Nicholas Alexander Chavez) that Esme was trying to skip town with Ace and Laura had to stop Spencer from laying into her. When Scott (Kin Shriner) arrived, he was also dismayed to see Esme. Soon, Spencer looked like he was about to blow a gasket, so Cam advised him to stop being so overtly hostile.
When Joss (Eden McCoy) approached Esme with a sleeping Ace on her shoulder, Esme reminded her that she didn't remember what she did to Joss and why. She just wanted to be a good mom to Ace. Later, Esme told Cam she wished he wasn't leaving town since he is the only person who seemed to be genuinely nice to her. When Cam pointed out that Laura has been nice, Esme said she felt Laura had an ulterior motive and Cam assured Esme that she didn't.
Later, Cam and Elizabeth shared a tender goodbye and after he left the party, Elizabeth tried calling Epiphany. A state trooper answered to tell her that Epiphany (Sonya Eddy) had passed away.