The GH recap for July 7, 2023, has Kristina wanting to do it all.
The General Hospital recap features Kristina coming up with what she thinks is a genius idea.
General Hospital Recap Highlights
In this episode, the Davis girls enjoy an evening out as Molly wants to forget her fertility troubles. At the Metro Court, the Chase men had an awkward dinner with Tracy and Brook Lynn while Dante and Sonny shared father-son bonding time. Over at the pool, Anna and Jordan caught up and Anna even got to meet Zeke. Finally, things turned dangerous as a shooter took over. Now, let's dig a little deeper into the details.
General Hospital Recap: Kristina's Generous Idea
At The Savoy, the Davis girls walked in just as TJ (Tajh Bellow) and Curtis (Donnell Turner) were discussing fertility issues. The ladies didn't hear them, so Curtis took the opportunity to ask Sam (Kelly Monaco) how Drew (Cameron Mathison) was doing. Sam got Curtis to talk about his own life but Curtis didn't want to give any details on how he had messed up.
As for TJ, he apologized to Molly (Holiday Mia Kriegel) for even being at The Savoy. He didn't want her to feel he was crowding her, but Molly confessed she felt a bit ambushed. Molly told him she definitely needed a break from her fertility issues, but not from TJ.
Elsewhere at the club, Alexis (Nancy Lee Grahn) and Kristina (Kate Mansi) made small talk about the shelter she wanted to open. TJ offered to help with medical care. Kristina even wanted him to be on the board. As the subject turned back to Molly, Kristina suddenly came up with a new idea. She would be Molly and TJ's surrogate.
GH Recap: Complicated Love Lives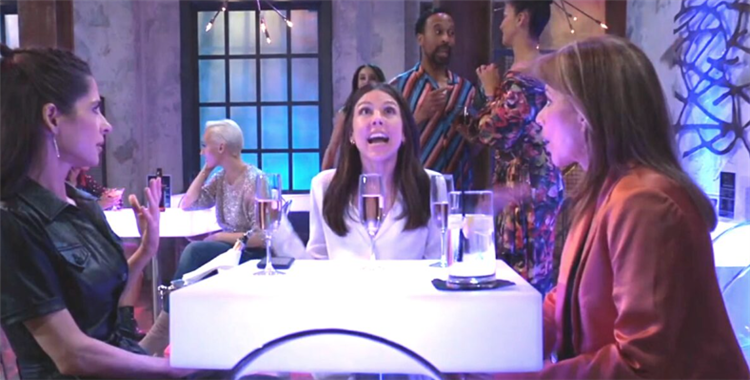 Tracy (Jane Elliot) once again threatened to tell Chase (Josh Swickard) that she helped Brook Lynn (Amanda Setton) get Chase his Port Charles Police Department job back just as the man they were talking about came by. BLQ quickly took Chase's arm and got away from Granny Tracy to have dinner with her man, though she left briefly again. Finn (Michael Easton) and Violet (Jophielle Love) ended up inviting Tracy to join in on this little soiree. After all, Violet wanted Auntie Tracy with them.
Too bad Gregory (Gregory Harrison) soon showed up and he was invited for dinner too. That made things more awkward considering that Tracy and Gregory really do not like one another. When BLQ returned to join them, she couldn't believe the dinner mess she was walking into.
Anna (Finola Hughes) and Jordan (Tanisha Harper) met up at the Metro Court pool where Anna learned Valentin (James Patrick Stuart) told Jordan all about the vandalism on her front door. Jordan wanted to know why Anna didn't report the crime and Anna insisted it was just kids pulling a prank. Jordan wouldn't let Anna change the subject, so Anna admitted that Emma (Brooklyn Rae Silzer) was having a hard time knowing her grandmother was a double agent.
The subject finally tuned to Jordan's life, and Jordan was happy to admit her new job could distract her from life. Anna was soon shocked to learn that Jordan slept with Portia's (Brook Kerr?) brother. She was further shocked to learn Zeke (Gavin Houston) told Portia all about the Curtis and Jordan kiss. However, Jordan had to admit that Zeke was hot and she still wanted to see him. Within a few seconds, Jordan spotted Zeke at the pool.
Anna left Jordan and Zeke to talk alone and Jordan said she understood why he told his sister about the kiss. Zeke wanted to start over but Jordan wondered if it was too late. Zeke tried to talk her into dinner but then Portia made an appearance.
Before that, Portia and Liz (Rebecca Herbst) sat down for coffee and a chat and Portia admitted she has been avoiding Curtis. She admitted she was still angry at her husband for kissing Jordan but she still missed him. Oddly, Elizabeth said she could relate to wondering if it was fair to ask someone to risk their heart after so much hurt had happened. Liz denied that she was talking about Finn and all Portia could do was encourage her to go for it. Still, Liz was not so sure…until she was.
Suddenly, Elizabeth decided to head to the Metro Court to tell Finn how the writers want her to feel about him. When she got there, she ran into Finn, Gregory, and Violet leaving. Gregory quickly took Violet home so Finn could stay and spend time with Liz.
General Hospital Recap: Danger Lurks At The Metro Court
Dante (Dominic Zamprogna) and Sonny (Maurice Benard) sat down for dinner at the Metro Court. Sonny was happy to ask his son to be his best man when he marries Nina (Cynthia Watros). Dante was happy to do so and wondered why Sonny and Nina wanted a small wedding. Perhaps Sonny's business is having some troubles again? Sonny reassured Dante all was fine but Dante wasn't convinced. Soon, Anna called and asked to speak to Sonny so he made his way to the pool for a chat.
Anna told Sonny she had a message from Valentin. Anna wasn't sure what the message meant but told Sonny not to speak to anyone new. If his contact person changes, that would be a red flag for Sonny to watch out for. Sonny understood what she meant but would not tell Anna what was really going on. Suddenly, shots rang out as a newly arrived Dante told everyone to duck.