The GH recap for June 2, 2023, has Josslyn and Dex confronting their feelings.
The General Hospital recap features Josslyn Jacks chastising Dex but then getting a shock.
General Hospital Recap Highlights
In this episode, Josslyn demanded the Pikeman video from Dex while Carly was horrified to learn it even existed. Spencer and Trina found some incriminating evidence in Victor's safe deposit box but weren't sure what to do with it. Sonny had a run-in with Ned at the pool, but Olivia soon surprised her husband. Jordan and Curtis had it out, with Jordan making a decision. Finally, Mason appeared in Austin and Ava's lives once again.
General Hospital Recap: A Big Day For Josslyn Jacks And Carly
Josslyn (Eden McCoy) and Dex (Evan Hofer) found a private moment to talk in his apartment, and she was shocked to learn he didn't have a copy of the Pikeman shipment video. He only had one copy and gave it to Michael (Chad Duell) because that is what he was paid to do. Josslyn was pretty rude to her boyfriend about the situation, even when Dex offered to let her look through his laptop. She said she believed him but also pointed out that without honesty, they had nothing.
Dex promised to always be honest, but giving her evidence he collected on a job — even if he had it — was not a part of that. Dex apologized for not being able to help her, but Josslyn just whined that Carly (Laura Wright) needed to be saved no matter what. Dex suggested that Josslyn just trust that Carly knew what she was doing.
General Hospital Recap: Dex Loves Josslyn Jacks
Suddenly, the subject turned to their relationship, and all Josslyn had done for Dex over the last year. Dex told Josslyn he loved her and asked if their relationship was too much for her. She responded with a kiss.
As for Joss's mother, Carly once again tried to prove she is now domesticated by making brownies and offering them to Michael, but he wasn't there for home-baked goods. Instead, he wanted to discuss the idea of Carly giving evidence to the feds against Sonny (Maurice Benard). She was still unwilling, so Michael once again tried to talk her into it. When Carly once again balked, Michael offered to provide evidence on Sonny instead of her. He showed Carly the flash drive with the video and explained what was on it.
Michael then had to explain how he got his hands on this video, leaving Carly stunned. She couldn't believe Michael was trying to bring down his own father for all this time. She reminded him the video could destroy their whole family and warned him it could never see the light of day.
At the Metro Court pool, Sonny happily told Dante (Dominic Zaprogna) about his engagement to Nina (Cynthia Watros). However, he was not happy to see Ned because he still thought he was the one who tipped off the SEC to the Drew (Cameron Mathison) and Carly insider trading mess. Sonny confronted Ned and tried to threaten him. Ned did his best to defend himself as he had been doing for weeks, but Sonny didn't want to hear it. Dante is the one who had to step in and break things up.
Olivia (Lisa LoCicero) then arrived and warned Sonny to leave her husband alone at her place of business. Sam (Kelly Monaco) and Dante convinced Sonny to let things go as Ned once again swore he did not call the SEC. He made an impassioned plea in his own defense, and miraculously, Olivia announced she believed her husband.
GH Recap: Sprina May Have The Evidence They Need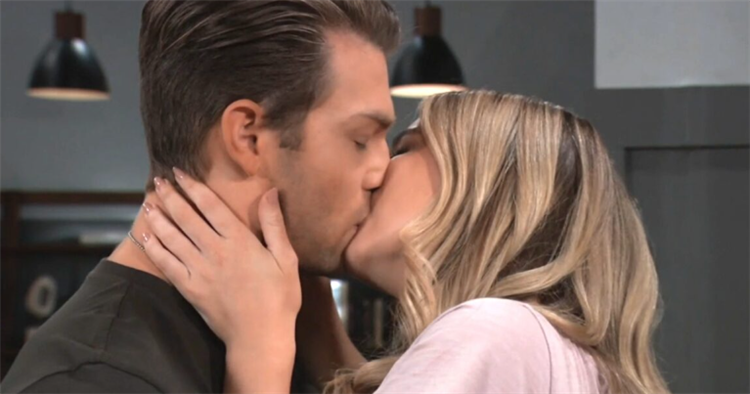 Spencer (Nicholas Alexander Chavez) and Trina (Tabyana Ali) were ready to open the safe deposit box from Victor (Charles Shaughnessy), but Spencer was hesitant. Trina insisted he had to do it and see what was in there. They found a tablet that needed its battery charged, so they had time to wait to learn what was on the tablet. They also found a receipt from an online pharmacy for a prescription for Tramadol that Esme (Avery Kristen Pohl) filled last year.
Trina finally had the proof she needed that Esme had drugged her at the cabin, and it brought up all her fury over what happened with that sex video. Trina still felt violated and traumatized over what happened and finally let out her feelings with Spencer. She was just grateful she didn't end up in a coma like Oz Haggerty (Max Faugno) did.
The pair also found a letter to Nanny Maggie that Esme allegedly wrote asking for advice on how to get herself out of trouble with Oz. Trina was thrilled that they finally had solid evidence against Esme, so they turned to the now-charged tablet and found a photo of Esme buying a burner phone from Oz on the docks. Trina was thrilled they had everything they needed to send Esme to jail in one little box, but Spencer looked a bit hesitant.
General Hospital Recap: Jordan Walks Away, Ava Freaks Out
Jordan (Tanisha Harper) decided she had to talk to Curtis (Donnell Turner) after learning he just moved back in with Portia (Brook Kerr), so she made her way to the beach house to see what he was thinking. Curtis was worried that Jordan told Portia about the kiss at The Savoy, but she was still keeping their secret. Curtis claimed he was on his way to tell Jordan he had decided to give things another go with Portia, but she clearly beat him to it.
Curtis was surprised that Jordan was so angry at his decision, but she pointed out that they had agreed to wait and see what might happen between the two of them. While Jordan was waiting, Curtis made a decision on his own, and Jordan understandably had a problem with that. Curtis explained that he was just staying in the guest room, so he is not technically with Portia.
That didn't seem to mean much to a ticked-off Jordan. Curtis admitted he had feelings for both Jordan and Portia, but since he screwed up his marriage to Jordan by not being forgiving, he figured he wouldn't do that with Portia. He even asked Jordan to give him more time to figure out who he really wanted. Jordan essentially told Curtis to shove it, as any self-respecting woman would do.
Ava (Maura West) and Austin (Roger Howarth) met up at GH to discuss the Nikolas situation. She explained that Laura (Genie Francis) was ready to fly off to Chechnya to see if Nikolas was there, and Austin didn't see the big deal because she knew he wouldn't be found. He did his best to convince her to just leave this be so nobody would become suspicious, but Ava didn't want to hear it. So, Austin finally agreed to help and hoped Laura wouldn't be jetting off too soon.
As expected, Mason (Nathanyael Grey) arrived to taunt them and creeped Ava out by telling her that he has been keeping tabs on her. Mason wanted some appreciation for taking care of their Nikolas problem, so he asked Ava to use her family connections to help him out.