News of its cancellation this past January surely shocked and saddened fans of "NCIS: Los Angeles." But they'll be heartened to know the long-running CBS military drama will be getting a proper send-off with a two-part finale and retrospective.
Airing consecutive Sundays, May 14 and 21, the finale titled "New Beginnings" picks up with the ATF seeking the NCIS team's help in investigating stolen military-grade weapons and locating a missing agent. Also, Rountree's (Caleb Castille) sister interviews for medical school and Sam (LL Cool J) encourages his father to take part in a drug trial.
And Callen (Chris O'Donnell) and Anna (Bar Paly) will be putting the finishing touches on their wedding, though all indications are that it will be anything but smooth sailing.
Immediately following the May 21 closer will be "A Salute to NCIS: Los Angeles," an hourlong special hosted by Kevin Frazier that features footage, behind-the-scenes memories and interviews with cast including O'Donnell, Paly, Castille, LL Cool J, Daniela Ruah, Eric Christian Olsen and Medalion Rahimi.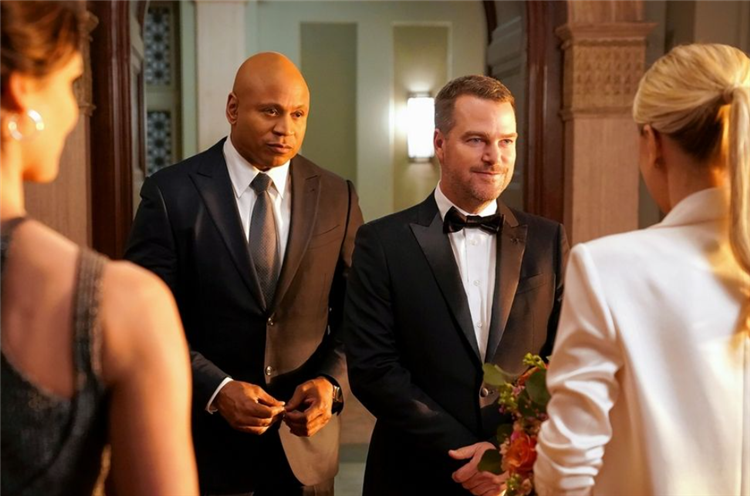 Bringing a series to a close after 14 seasons and 322 episodes posed a formidable challenge for showrunner and executive producer R. Scott Gemmill, who wanted to not only satisfy longtime viewers but also do justice to the individual characters, chief among them O'Donnell's G. Callen and his impending nuptials.
"We sort of put Callen on that path in previous seasons," Gemmill explains, "and once we found out that we were going to be wrapping up, it seemed like a natural progression for his character, I think, in the sense that he always played this sort of lone wolf … but wasn't one really to commit to even his own stable sort of lifestyle. And I think by having him take this leap and make a commitment to the Anna character, it sort of shows him moving into a next stage of his life and sort of coming to terms with who he is and what he wants for the future."
As for other storyline threads, Gemmill indicates there will be a few surprise guest appearances though he didn't get into specifics other than to say they will help bring closure and put characters on a hopeful path. After 14 seasons, the cast and crew have become like family to him and he hopes there will be other collaborations.
"You know the old saying 'Don't be sad that it's over; be happy that it happened in the first place,'?" he says. "That's what we're trying to focus on. And over 14 years, you forge many, many friendships … So I'm sure a lot of us will cross paths and we all want to work together again — Chris and Todd (LL Cool J) and Eric (Olsen) and Danny (Ruah) and I. So I'm sure we will find ways."