Police procedurals are all the rage on the small screen these days, but "Blue Bloods" stands out from the pack as one of the most successful. Since debuting on CBS over 10 years ago, the family-centric crime drama has become one of the highest-rated shows of its ilk (per TV Insider). Starring Tom Selleck as a husband, grandfather, father and police commissioner known as Frank Reagan, the series follows the patriarch and his family members — most of whom are involved in law enforcement in their own right — as they solve crimes and discuss various topics around the dinner table.
One of Frank's sons is detective Danny Reagan, who is played by Danny Wahlberg. Much like his old man, Danny is a devoted family man who takes his job very seriously, which lands him in a spot of bother from time to time. Both characters are close to each other in "Blue Bloods," but are Selleck and Wahlberg friends behind the scenes?
Donnie Wahlberg and Tom Selleck are like father and son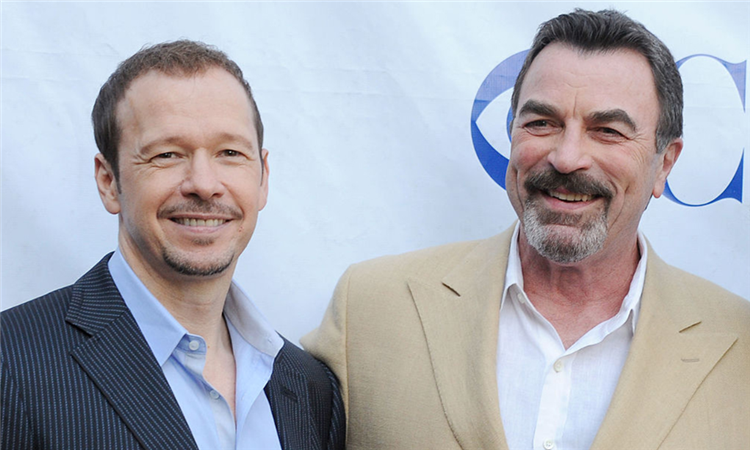 Danny Wahlberg and Tom Selleck have been working together for over a decade, so it's fair to assume that they at least have a professional working relationship. However, it turns out that the actors are close to each other, and their bond is similar to the father-son dynamic their characters share in "Blue Bloods."
During an interview with CBS, Wahlberg described Selleck as a "solid individual" who's been supportive since the first episode of "Blue Bloods" aired on the network. However, despite their closeness, Selleck always pushes his co-star to go above and beyond to make the series better, and he expects the same from Wahlberg in return. Wahlberg recalled an early conversation he had with Selleck early on, in which his TV dad told him that he's good at "making scripts better." Since then, they've relied on each other to "[run] through walls" for the show.
In a more heartfelt post, Wahlberg took to Instagram earlier this year to wish Selleck a happy birthday, describing him as a father figure and friend outside of the show. "Thankful to have you in my life 'dad', and blessed to have a small supporting role in the amazing legacy that is your life! Love you, Dad! Always, Son!"